As a church our aim is to serve our local community as best we can, and to spread the good news through the myriad moments of grace that happen under this roof. We are more than just a Sunday worship congregation.  We are a small group of loving people with bedrock (but not Fundamental) beliefs, happy to join people of all faiths or none in shining the light of love in this place, assisted by Food & Friendship, and many of the other groups and individuals who meet here during the week. All are welcome.
What's on for children:
Mondays
Tuesdays
Wednesdays
Thursdays
Fridays
Polka Tots – a parent and toddler drop-in group from 2-4 every Friday (except during August).  £2 per family, refreshments & toys provided. Contact Rachel on for details.
Streetfunk dance classes at 4.30 and 5.30pm, contact  info@streetfunk.co.uk
What's on for adults:
Monday
Pilates 9.30 – contact Helen on 07870 047799
Monday Guild 2.30pm drop-in group with speakers, music and afternoon tea – contact church office 01273 324600
Tuesday
Hove Luncheon Club – 12.30 (during term time). The award-winning club returns from 8 June with a three-course meal and entertainment for £4 to all comers. Contact Caroline Henderson on 07813 667857, numbers will be limited at first due to Covid regs.
 
Wednesday
AA meeting 3.00 contact 01273 203343
Thursday
Midweek Communion 10.00 – small, informal service, contact Elin or Rachel on 01273 324600 or just drop in
Hove Luncheon Club 12.30 (during term time).  Informal two-course lunch Contact Caroline Henderson to book in as places are limited for now.
Slimming World 4.00pm contact Trish on 07821 007881
Pilates 6.00 in the church, contact Emily 07709357622, web http://www.pilateswithemily.co.uk/contact-us-five
Friday
Slimming World 9.30 contact Trish on 07821 007881
Chatty Cafe 10.00 – drop-in cafe and support group, contact Rachel on 07813 707929
CODA meeting 12.30 – contact Sarah on 07973 291056
Saturday
AA meeting 4.15 in the Ellington Room
2020 Christmas Lunch Deliveries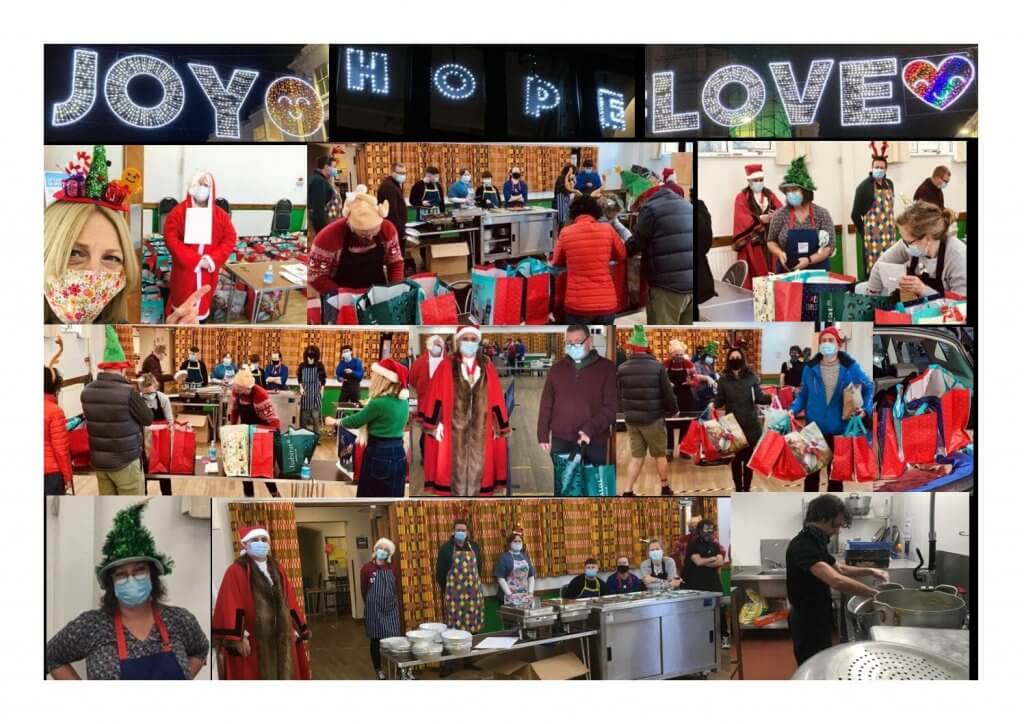 (Please consult our Newsnotes and/or office regarding events during the Covid 19 pandemic.)
For adults
Hove Luncheon Club – an award-winning group of volunteers (Argus Community Stars) who provide a three-course meal for £2 to all comers every Tuesday at 12.30 (during term time).
Caroline Henderson (cookingcaroline@outlook.com) of Cooking & Co also runs a Thursday group here – it started as a cooking club for a number of people with differing abilities, but it is increasingly popular with people who drop in to eat together
Loving Hands: a weekly informal support group for anyone experiencing bereavement or isolation, hosted by Rachel and Jaqui from the church and lunch club.  Come along and have a cuppa and a chat on Friday mornings, from 10.00-11.30am.
Monday Guild: between September and May, from 2 to 4 pm, weekly on Mondays, this is a Christian meeting for friendship and fellowship, with a variety of speakers and topics.
Brighton & Hove Camera Club run a group here at 7-9.30 on Tuesday evenings
Film Club: between September and May, on the first Friday of the month at 7.45pm, we watch a film together then chat about it over a cuppa afterwards. Free admission with donations towards our chosen charity. Details in Newsnotes.
Mens Club: September to May, weekly on Fridays, 7.30-10.30pm, snooker, darts, table tennis. c/o David Sawyer